Mountboard
What is Mountboard?
Mountboard, also known as Mat Board, is a wood pulp or cotton based board that is cut to size with a Mountcutter. Mountboards are graded using FATG (Fine Art Trade Guild) standards, Cream Core, White Core, Conservation, and Museum. Mounts are available in a wide range of colours from leading manufacturers Daler Rowney, Colourmount, Canson, and LION's own brand, Value.

Ordering mountboards from LION is easy. You can order any quantity (10 or over) and mix of all the mountboards and other boards listed below. On their pages, they are marked with the LMMD icon.
We'll pack it snugly in our specially designed cartons and dispatch it to your workshop. The cartons can take up to 30 sheets, but that varies with thickness, and our packers deal with that.
So, you order any mix of 10 or more sheets of anything below and we'll sort the packing.
Page numbers are for LION 56, 2020, catalogue.
Our standard mountboard cartons take these mountboards:
Value p.54-56
Daler p.58-61
ColourMount p.62-65
Canson Museum p.57
And some other boards and materials:
Corri-Cor fluted backing boards p.67
Daler and ColourMount Cold Sticky Boards p.41
SpeedMount Hot Sticky p.48
Pulp board p.66
Styrene, clear p.72

Colourmount mountboards are manufactured in the UK by Slater Harrison Ltd, a company with over 80 years experience. The range features around 160 (Chk) shades and colours and a choice of 10 thicknesses, from 0.45mm to 3.0mm. Three key types of mountboards, with many variations.

Daler Rowney have been producing a very wide range of quality mountboards in the UK for many years. Careful selection of all the materials and digital control of the manufacturing process ensures that all the boards in their range are of the highest quality.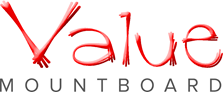 Value we introduced this carefully curated collection of mountboards over 25 years ago it has been popular with framers and their customers ever since. Made in the UK, it offers Conservation, White Core and Cream Core in a range of just twenty two colours which meet a big proportion of any framers' requirements.
Canson Museum mountboards are made from 100% cotton fibre, which is naturally acid-free and provide the best possible conservation quality. The boards are made by careful lamination of plies of 0.3mm paper together, using pH neutral adhesive. This means that Canson museum boards are same colour on both faces and in the core.
LION Mixed Mountboard Despatch: We despatch 10 sheets or more of any mix of normal size mountboards and similar. Due to their size, Jumbo boards can only be despatched in full packs of 5. All with fast delivery to your workshop. We carefully pack them to minimise the risk of damage in transit.
Collect Mountboard from our Trade Counter: You are welcome to buy any quantity of any mountboard when visiting us. Speed up your visit by placing your order via 'Click & Collect'. If you are not in a rush, enjoy a free coffee and browse the LION Mouldings range. If you'd like to look at anything in our extensive range of framing equipment, please check with us before you travel to make sure our Technical Manager will be available.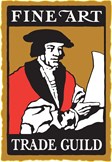 Fine Art Trade Guild Mount Board Standards
Museum Rag, Level 1; Conservation, Level 2; White Core, Level 3; Cream Core, Level 4
(Levels 3 and 3 are used only by Lion and are not approved by FATG)

1 Museum Mountboard
- 100% cotton fibre, containing no post consumer waste (i.e. no re-cycled fibre)
- Naturally acid free
- Buffered with calcium carbonate

2 Conservation Mountboard
- Containing no post consumer waste (i.e. no re-cycled fibre)
- Chemically purified to remove all the lignin
- Buffered with calcium carbonate
3A White Core Mountboard
- Wood pulp chemically purified to remove the lignin
- Buffered with calcium carbonate of 7 to 9.5
- The core starts white and stays white
3B Cream Core Mountboard
- Un-treated wood pulp
- Buffered with calcium carbonate of 7 to 9.5
- Contains lignin which will cause the core to turn brown over time
Colourmount, Daler and Value are all members of the international FATG Mountboard
Group. The manufacturers work with the Guild to maintain and improve mountboard
standards and to create wider awareness of those standards amongst framers and consumers.
3A and 3B are quality sub-categories applied by LION and are not FATG approved.